Regular price
Rs. 1,598.00
Sale price
Rs. 799.00
Unit price
per
Sale
Sold out
⭐⭐⭐⭐⭐ 9 Reviews
 🚚 COD Available + Free Shipping
Description
DO YOU WANT TO TREAT BODY PAINS WITH ACUPUNCTURE BUT ARE AFRAID TO BE PUNCTURED BY NEEDLES?
Our revolutionary Acupuncture Pen does not contain any needles and provides a painless, acupuncture-type stimulation using an electric pulse to successfully treat a range of conditions including: back pain, arthritis, sciatica, fibromyalgia, migraines, sports injuries, muscle & joint pains
 Reasons Why Our Acupuncture Pen Will Change Your Life:
1) VERY EFFECTIVE AT ELIMINATING PAIN ALL OVER THE BODY: With one use of our acupuncture pen, you'll be able to relieve your pain and stress within a few minutes
Many customers reported that they relieved pain in at least one area of their body on their first use! 

On top of this, a number of customers have also reported increased mobility as a result of using this acupuncture pen
2) IMPROVES YOUR HEALTH: Frequent use of the acupuncture pen will promote healthy blood circulation, firm aging skin and eliminate stress and anxiety as your body begins to heal 
3) 100% SAFE TO USE: The HappyStore acupuncture pen is 100% safe to use with no side effects. As long as you follow our simple user manual, you will be good to go
4) EASY TO USE & PORTABLE: The pen is very easy to use and is lightweight, so you can carry it around with you. It is powered by 1XAA battery
5) NO NEEDLES, NO PAIN:  The acupuncture pen does not contain any needles and is completely painless to use allowing you to actually enjoy the acupuncture pen experience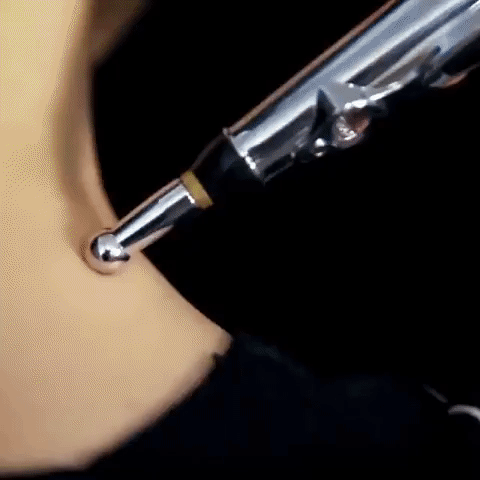 6) AFFORDABLY PRICED: The pen is affordably priced and after using it you won't need anymore expensive and time consuming massage, physiotherapy and chiropractor sessions
7) LONG LASTING AND DURABLE: The acupuncture pen is made from high quality stainless steel and is highly durable, so it can be used year after year
How It Works:
Simply press the HappyStore acupuncture pen to the affected body areas and it will release a painless electric pulse to stimulate the meridian and acupuncture points in your body to promote healing and provide pain relief
The acupuncture pen has 9 different adjustable intensity levels to choose from and 2 different pen tips (flat tip and rounded tip) to cover all aches and pains
Then try out Acupuncture Massager And Pain Relief Device instead!

It's a painless acupuncture stimulation that activates tissues, firms sagging and aging skin promotes blood circulation, detoxes the meridians, and helps reduce muscle pain.

FEATURES:
Needleless acupuncture. There are no needles involved so there is no skin piercing. Simply press the pen onto the affected areas and it will release an electric pulse to stimulate the meridian and acupuncture points in your body for healing and pain relief.
Alternative treatment. It has no side effects as opposed to using painkillers and other medications to treat chronic pain. It's great for treating acute and chronic physical pain, arthritis, rheumatism, osteoporosis, sciatica, migraine, sports injuries, and muscle, joint, and back pains. 
Easy to use. It only needs one AA battery (not included) to function.  It has a digital display that shows the strength of the electrical pulse output (0 - weakest and 6 - strongest). Simply press the start button to increase or decrease the strength of the electric pulse.
Have three special functions. Dome type is superficial therapy applicable for health care and facial beautification, Node type is node therapy applicable for partial body pains, and Spheroidal is partial therapy applicable for quickly alleviating pain.
Portable pain reliever. It's lightweight so you can easily put it in your pocket, bag, or pouch if you're traveling or perhaps just going to work for a long day and need relief from your pain.
RELIEVE TYPES OF PAINS
Shoulder pain
Knee pain
Nerve pain 
Chronic lower back pain
Ankle pain
Muscle pain 
PACKAGE INCLUDES:
Electric Acupuncture Pen
Node Head
Dome Head
Manual (English)
Powered by: 1 x AA battery

 

(not included)
6 Months Warranty 
Note: It's an Electric Acupuncture Pen, You can feel pulses on the hand from which you are operating.
Share
View full details